CompTIA A+ (220-901) eBook
Learn Visually
PowerCert's CompTIA A+ ebook study guide for the 220-901 exam.
Hello everyone! I'm Scott and I am the creator of The Animated CompTIA A+ Video Course on PowerCert Animated Videos on youtube.
I have decided to create an eBook study guide for the CompTIA A+ 220-901 exam to help you further prepare for the exam.
The eBook includes explanations of various computer & networking hardware, along with colored illustrations.
201 pages
Sample...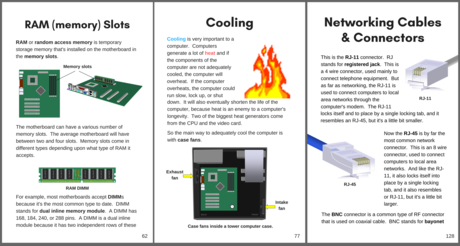 Topics Include:
• Input Devices & Peripherals • Monitors • Printers • Storage Devices • Mobile & Laptop Issues • Power Supply • Motherboard Form Factor • I/O Interfaces • Adapter / Expansion Cards • RAM Slots • Cooling • RAM • CPU, Socket, Chipset • Bus Slots • BIOS / CMOS • RAID • Networking Cables & Connectors • Wiring Standards • Firewalls • Media Types • Network Components • Wireless Technologies • IP Address • IP Addressing Methods • TCP/IP Protocol Suites • Ports • Internet Access Technologies • Network Types • Networking Tools • SOHO Routers & Wifi Encryption • Network Utilities